Namboothiris are not well known for their involvement in sports. Here is an exception. In the northwest corner of Malappuram district, there lives a girl, named Nileena, a Volleyball star. Probably, she is the first Namboothiri girl to represent Kerala in any sports event.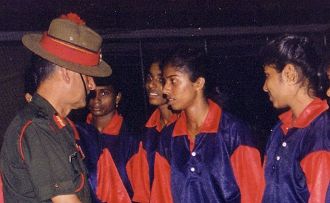 Nileena belongs to Edassery Illam in Vallikunnu village. She was born in 1977 to Edassery Neelakandhan Namboodiri, a school teacher. Her "Ammaath" (Mother's Illam) is Pillanezhi Mana, in Thrissur district.
Vallikunnu village boasts of a volleyball court and daily practice since 1950s. Though meant for boys, of late, the court attracted girls too. Her father took Nileena to volleyball court.
During her school days itself, from 1993 to 1995, she represented Malappuram in the Kerala State rural volleyball championships. She was a member of Kerala state team, which won the Women's National Championships in Patiala in 1994. She represented Thrissur district three times, between 1996 and 1999. During this period, Thrissur district won the state championships, in 1997. She was a member of Calicut University team for three consecutive years, between 1996 and 1999. All these three years, Calicut University attained third place in the All India Inter-university Volleyball Championships, first in Jamnagar (1996-97), then in Amritsar (1997-98) and finally at Thiruvananthapuam (1998-99). Under her captaincy, St. Joseph's College, Irinjalakuda, won the Calicut University championships in 1999. Again, she represented Kerala in the National Youth Championships in Rajastan in 1998. Later, she represented Annamalai University twice, in 1999 as well as in 2000, and was a member of Tamilnad state youth team in 1999.
She did pre-degree studies in Little Flower College, Guruvayur, degree studies in St. Joseph's College, Irinjalakuda and Master of Physical Education and Sports Science in Annamalai University. She worked for a short period as Physical Education Lecturer in a college. She is married to Narayanan of Puthumana, near Nileswaram in Kasaragod district. She has recently become a proud mother of a boy.