Vaasthu Vidya, the art and science of construction existed in India from Vedic times. "Sthhaapathya Vedam" is a subsidiary branch of Athharva Vedam which is one among the four Vedams. The science of house construction, traditionally known as "Vaasthu Vidya" or "Thachu Saasthram" is nothing but this Sthhaapathya Vedam. Like other scientific treatises in India the art of building construction is also written in Sanskrit, and find references to it in her scriptures and legends.
A profound knowledge of Sanskrit was indispensable for a proper understanding of the subject. The Namboothiris were well-versed in Sanskrit and so they had easier access to and better grasp of this subject. Along with Vaasthu Vidya, the seekers got opportunities of learning Astrology and Thanthric rites, since the three fields are inter-related. As a result, those practising Thanthric rites were adept at building construction too.
Mention must be made here that Keralites have been following the principles of construction as enshrined in treatises like "Silparathnam", "Manushyaalaya Chandrika", etc. which were written by great masters of the subject, and which describe the designs and styles of construction unique to the geographical condition of the region, and quite different from those in the neighbouring states. It is interesting to remember that a detailed description of the plan, style and design relating to building of houses is a special feature of Kerala, not found in other parts of India.
Let us now meet some luminaries of this world:
1. Chennas Narayanan Nambudiripad (b. ME 603)
The first undisputed master of Vaasthu Vidya is Narayanan Nambudiripad of Chennas Mana who is also the renowned author of "Thanthra Samuchayam", an authentic treatise on Thanthram. He was born in ME 603 (1427-28 AD) at Vanneri in Ponnani Taluk. Thanthra Samuchayam is a voluminous work of 2,700 Slokams in 12 chapters dealing with the construction of temples as well as the rites to be observed at the installation of deities, renovation work, etc. Even today this work is considered to be the most authentic in this field.
2. Thirumangalath Neelakandhan Moosad (between 15th and 17th centuries AD)
Neelakandhan Moosad is the author of the popular work in Kerala called "Manushyaalaya Chandrika". His period is uncertain but is conjectured that he must have lived between the 15th and 17th centuries and certainly after Chennas Narayanan Nambudiripad. Manushyaalaya Chandrika is looked upon as the base for building construction in Kerala, as will be revealed by observing most of the houses here.
3. Velanezhi Jathavedan Namboodiri ( b. ME 1008)
Born at Venganelloor near Chelakkara in Thrissur Dist., he joined the Brahmaswam Mattham after "Upanayanam" to study the Vedams. Quite early in life, he mastered the basics of Vaasthu Vidya. His attention was also drawn to painting, Astrology and sculpture. A splendid monument of his architectural skill is the famous "Koothambalam" at Thrissur. A time came when the Maharaja of Kochi decided to demolish the Koothambalam and reconstruct it at the same place, retaining its grandeur. The work was entrusted to Jathavedan Namboodiri. It is said that three days before the structure was demolished, he lay flat on the floor looking up and examining the intricacies of the architecture, and making mental calculations. He then requested the Maharaja to order for the demolition of the structure. But the royal head's engineer dissented, arguing that unless a miniature model of the structure was set up outside, the pristine beauty and magnificence of the original would be lost. Yet, Jathavedan Namboodiri was firm in his decision, saying that with a smile "the building is already installed within and no need of a model without", meaning he has a complete mental picture of the marvellous Koothambalam. Thereupon, the work of pulling down the old and reconstructing the new started. Ultimately, the work was over in 1879 AD.
Again, it was Velanezhi who designed the "Ettukettu" of the palace at Tripunithura. The story goes that it was he who helped the carpenters who were struggling in vain to complete the work on the dining hall at the Mahadeva temple, Vaikom, owing to some architectural defect. We can have a measure of his genius and skill when we consider that most of the Naalukettu and Ettukettu (quadrangular buildings with courtyards) of the rich and renowned Aadhyan Namboothiris of central Kerala owe their origin to the fertile imagination and artistic excellence of Velanezhi.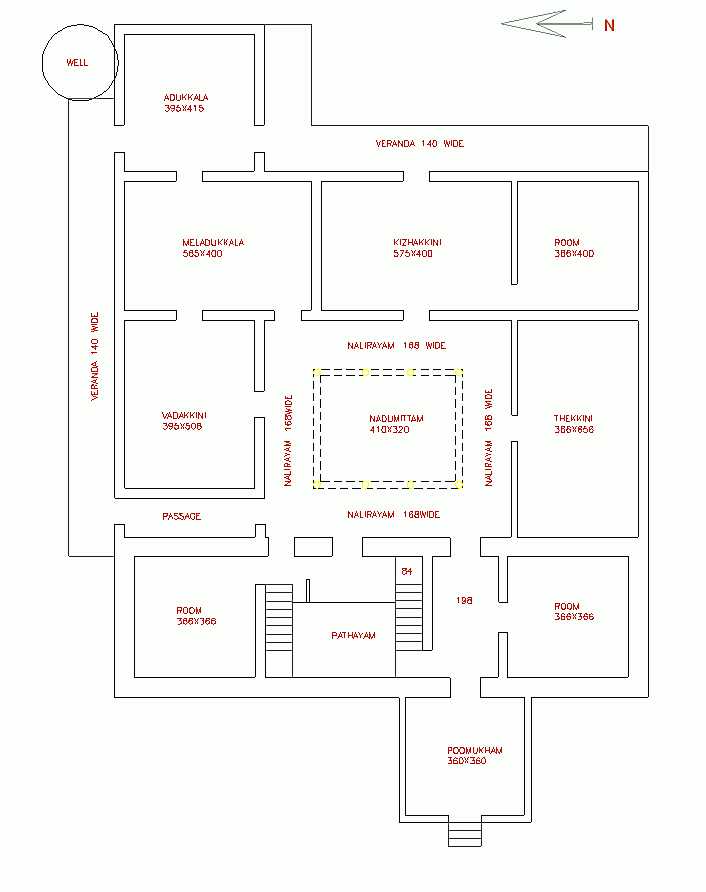 A TYPICAL "NAALUKETTU" - PLAN OF ATRASSERY MANA, VALLAPPUZHA, PATTAMBI, PALAKKAD DISTRICT
Famous Illams like Poomulli, Varikkaasseri and Kuroor are captivating illustrations. He excelled not merely in building houses, but temples as well. He lived upto his 80th year and then quietly retired into another world, leaving none to excel, and few to equal, him in architectural skill.
4. Kanippayyur Subrahmanian Nambudiripad (ME 1014 - 1085)
The father of the well-known Sankaran Nambudiripad, he had been the superintendent of building construction under the Maharaja of Travancore. All the state-owned temples and palaces were designed, constructed and renovated under his supervision.
But his interest and absorption lay greater in Astrology than in architecture. The treatise "Yukthibhaasha" written in Malayalam was at the tip of his tongue and part of his blood stream. Besides, he showed exceptional facility with Mathematics. What is more surprising is that he could remember and solve all the problems in Mathematics dealt with in "Leelavathy", a masterly book in Sanskrit. To crown it all, he was a gifted musician and a good painter. A wall painting of the family deity at his house etched by him still looks on, giving indications of his immaculate artistic prowess.
The palace of Sreemoolam Thirunaal in Thiruvananthapuram was constructed by him. The king expressed his marvel and wonder at the architectural perfection of the palace in no uncertain terms and honoured him with a Veera Srinkhala" (gold chain) and other suitable awards. Further, Nambudiripad was invited as the chief guest at the Murajapam in ME 1069. Ever since, this invitation was received by the Nambudiris of Kanippayyur Mana.
Subrahmanian Nambudiripad called it quits as superintendent when the king insisted on his daily attendance in the office. Later on, this genius fell a victim to diseases and was bed-ridden. Records show that the king then offered him ample financial help. Finally, the great scholar passed away on Thulam 2, 1085 at the age of 71.
5. Kanippayyur Parameswaran Nambudiripad (ME 1016 - 1094)
A younger brother of Subrahmanian Nambudiripad, he was outstanding in all traditional skills. But his greater passion was for Mathematics and Astrology in which he was a great name all over Kerala. The almanac known as "Panchaangam" was not very popular in those days. But Parameswaran Nambudiripad had the habit of making a mental calendar for a month, storing it up in memory and enlightening those who came to him for information. He was interested in sculpture, too. To add to his versatility, he made the crown of Kathakali artistes, earrings, gold bracelets as well as dolls of different varieties like miniature models of elephants. He died at the age of 78.
6. Pallatheri Nambiathan Namboodiri (ME 1052 - 1115)
Nambiathan ( Sasthrusarman) Namboodiri was born in Pallatheri Illam of Puthanchira on the Pooyam star of the month of Thulaam in ME 1052 (AD 1876), as the second son of Madhavan Namboodiri and Venkitangu Nediyaparambu (Mahal) Neeli Antharjanam.
After learning to recite Yajurvedam, and becoming a Sanskrit scholar, Nambiathan Namboodiri got in-depth training in Tharkasaasthram and Thachusaasthram at the famous Koodalloor Gurukulam. Soon he became one of the top Thachusaasthram experts of the time. In addition to preparing plans, designs and estimates for a number of homes, he also supervised the construction of many of them. As early as a hundred years ago, he built roofs with a special mix of "Koorodu", "Maarodu", lime and jaggery, which were as strong as the present-day concrete roofs - and that too without any reinforcement steel! (click : Namboothiri Magicians)
7. Kanippayyur Parameswaran Nambudiripad [Jr.] (ME 1053 - 1096)
The eldest brother of Sankaran Nambudiripad, he was a good Sanskrit scholar. After his Vedic studies at the Brahmaswam Mattham, Thrissur, he was taught the science of architecture and Astrology by his own father. Later he learnt Sanskrit at Kodungallur Palace in the Gurukulam way. Thereupon he pursued studies in Sanskrit and acquired greater mastery along with Kurur Unni Nambudiripad, his uncle's son. Their teacher was Vadakkeppaattu Vasudevan Namboodiri.
A recognised Vedic scholar, he successfully got through the "Anyonyam" (an exceptionally difficult task and a test of one's unshakable command of Vedic text) [Click here for Kadavalloor Anyonyam] at Kadavalloor Sree Rama temple. He got published the historical story, "Kakkaattu Bhattathiri" in verse in the magazine entitled "Unni Namboodiri". He was the first man to make the necessary calculations to prepare the "Yogakshema Panchaangam" in 1084. Under the tutorship of Konath Sankara Varier, he got a clearer peep into Astrology and skill in determining "Muhoortham" (auspicious day and time) for religious performances. It is interesting to note that he taught his master the science of architecture. He was helped by Maannaanampatta Sankaranarayanan Namboodiri for the preparation of "Panchaangam". This genius once went to Thirunelli in connection with some architectural consultation, contracted typhoid and passed away at the early age of 43.
8. Maannaanampatta Sankaranarayanan Namboodiri ( ME 1056 - 1134)
He was born at Kavalappara near Shoranur in 1880-81. His father was Neelakandhan Namboodiri. After preliminary education, he was sent to the renowned Kanippayyur Mana where the well-known Kanippayyur Sankaran Nambudiripad was a fellow-student. Maannaanampatta acquired a good knowledge of Astrology and building construction there. It was he and Kanippayyur Sankaran Nambudiripad who had prepared "Yogakshema Panchaangam". He went all over Kerala and helped people with the construction of houses, giving proper guidelines and furnishing details. Noteworthy is the fact that most of the Namboothiri houses in Kerala as well as temples were constructed in accordance with his calculations. He died in 1959 at the age of 78.
9. Kanippayyur Damodaran Nambudiripad (ME 1064 - 1110)
He was the immediate elder brother of Sankaran Nambudiripad. He studied in the traditional style. Like other members of the family, he was accomplished in the science of architecture. A scholar in Sanskrit, he also studied toxicology (Visha Chikitsa). His father and elder brother had already compiled topics relating to construction of temples in the form of a book. The information from this as well as from books like "Thanthra Samuchayam", "Mayamatham"and "Silparathnam" was used by him to produce a new authentic book with lucid interpretations and explanations entitled "Thanthra Samuchayam - Silpabhaagam". The second to the seventh Slokams of the 9th chapter of this book bearing the title "Dhwaja Lakshanam" are the contributions of his elder brother, Parameswaran Nambudiripad. Later, Sankaran Nambudiripad brought out a new edition of this book with additions like "Jeernodhhaarana Vidhi", and necessary illustrations.
This unique work comprising eleven chapters with six supplementary sections deals with nearly a hundred topics. Exact and distinct calculations are shown for the construction of temples facing east and west. Besides, Thanthra Samuchayam also throws ample light on the construction methods of replicas of deities, dance-halls (Naatyamandapam / Koothambalam), etc. It may be noted that the Namboothiri houses (Illams) in Kerala are modelled on this design. It is a measure of the true greatness of Damodaran Nambudiripad that, when the famous Poornathrayeesa temple at Tripunithura was in flames, he made precise mental calculations of the whole edifice, based on the remains, and the sanctum sanctorum was rebuilt in RCC with a covering of copper plates. Incidentally, this is the first sanctum sanctorum in RCC in Kerala.
The end of this pioneer was tragic. At the age of 46 he died, by rabies.
10. Puliyoor Purushothaman Namboodiri (b. ME 1064)
An undisputed scholar in Sanskrit, the fountain-head of Astrology and a man proficient in architecture, Purushothaman Namboodiri was born at Peruveli Mattham at Puliyoor in Chengannur as the gifted son of Subrahmanian Namboodiri and Sreedevi Antharjanam. Even at the early age of 16 he assimilated a commendable knowledge of logic (Tharkam), grammer (Vyaakaranam), "Alankaaram", architecture, Aayurvedam, Astrology (Jyothisham), etc. Many a temple and house had been constructed as per his architectural designs and calculations.
11. Kanippayyur Sankaran Nambudiripad (ME 1066 - 1160)
From ancient times, Kanippayyur Nambudiripads were unequalled in Vaasthu Vidya. They were the advisors to the Maharajas of Kochi in this department. Among them Sankaran Nambudiripad was the most illustrious. To spread the knowledge of architecture, he not only published books but set up the "Panchaangam Press" at Kunnamkulam in Thrissur District. It is to his credit that many Sanskrit works were translated into Malayalam.
12. Vezhapparabu Parameswaran Namboodiri (ME 1107 - 1177)
Hailing from a Thanthry family, Parameswaran Namboodiri was an expert on "Thachu Saasthram". He had supervised the construction of many a temple in Kerala, giving specifications and prescribing rules in the light of the "Saasthram". He was the "Thanthry" of about 150 temples in Kerala. He had his early education in the "Gurukula" style and later at the Sanskrit school at Tripunithura. He achieved distinction in "Aagama Saasthram", Sanskrit literature and Vaasthu Vidya. He passed away on January 17, 2002.
PRESENT-DAY EXPERTS IN VAASTHU VIDYA
1. Kaanapram Narayanan Namboodiri
He was born on August 30, 1922 in Kaithapram, north of Kannur. After "Upanayanam" at the age of 8, he started Vedic studies. His father is Eeswaran Namboodiri. Quite early in life he had an aptitude for sculpture. Then his attention was diverted to Vaasthu Vidya where his Guru was K Sreedharan Namboodiri. He has given a new interpretation entitled "Naaraayaneeyam" to "Manushyaalaya Chandrika", a branch of architecture. He has travelled widely all over Kerala to participate in temple "Prasnams"and help people in siting of houses. Recently, along with Kanippayyur Krishnan Nambudiripad and Kesavan Achari, Kaanapram was also invited to a function in Thiruvananthapuram, organised to honour the stalwarts in the field of traditional architecture.
2. Kanippayyur Krishnan Nambudiripad
The most widely known even internationally and respected among the authorities on Vaasthu Vidya alive today is Krishnan Nambudiripad. In him we have a confluence of modern education and traditional knowledge with special emphasis on architecture. Many temples have sprung up all over the world and of course in India under his able supervision. People in Kerala seek his advice before venturing upon constructing houses. He is one of the founder members of "Vaasthu Vidya Prathishtthaanam", an establishment to spread the relevance and importance of architectural expertise in the modern world. He has conducted various classes in India and abroad on the subject. He has also published a variety of works dealing with this subject.
3. Kanippayyur Parameswaran Nambudiripad
The younger brother of Krishnan Nambudiripad, he has also acquired knowledge and skill in the science of architecture. "The Panchaangam Book House", which is a publishing department of the Kanippayyur group of institutions, is run under his supervision. Parameswaran Nambudiripad also conducts classes, like his elder brother.
4. Kanippayyur Krishnan Nambudiripad (Udayamperur, Kochi)
Another member of the great family and an authority on the subject, he lives near Kochi. He is responsible for the construction of many houses and temples, especially in central and south Kerala.
5. Kanippayyur Unni Nambudiripad
He is also a name to be reckoned with in architecture and indeed, very busy.
6. Kanippayyur Kuttan Nambudiripad
He is not a name to be ignored in architecture among the young generation.
7. Cheruvalli Narayanan Namboodiri
A resident of Kozhikode, he is a distinguished person in architecture in North Kerala. He has read and digested almost all works on Vassthu Vidya written in Sanskrit and Malayalam. An engineer by vocation, architecture is his avocation. He is one of the directors of Vaasthu Vidya Prathishtthaanam.
8. Karangat Raman Bhattathiripad
Raman Bhattathiripad is a civil engineer. At the same time, he is recognised as an expert on architecture. He is a blend of the old and the new, combining the old style with the new method of construction. He is also a director of Vaasthu Vidya Prathishtthaanam.